Athlete & NGB Foundational Programs
Additional programming and supporting services are designed to enhance holistic athlete well-being and successful NGB operations and governance. This includes safe sport and anti-doping contributions, as well as athlete career and education assistance, alumni relations, ombuds services, NGB organizational support, diversity and inclusion programming and collegiate partnerships. In 2019, we focused on listening and gathering feedback—from our stakeholders and our critics—and took action on a host of recommendations that can enable us to create a stronger athletes-first culture, ensure the safety and well-being of the athletes we serve, and establish greater accountability for everyone in the Olympic and Paralympic community.
---
Athlete Services and Engagement
---
The USOPC created an athlete services division in February 2019 to advance the support and resources available to Team USA athletes—specifically in the areas of athlete safety and wellness, engagement, communication, career and education. Additionally, and based on recommendations from the Borders Commission, the new structure moved oversight of sports medicine to the athlete services division, creating separation between the people who support athlete wellness and those dedicated to athlete performance. Athletes are among the primary leaders of the new division, which is designed to ensure we are fulfilling our mission and providing as much backing to athletes off the field of play as on it.
Athlete Ombuds
---
The Office of the Athlete Ombuds offers confidential, independent and free advice to athletes and assistance with resolving disputes and grievances. In 2019, the office welcomed two new assistant ombuds, Olympic bobsledder Emily Azevedo and Paralympic soccer player Bryce Boarman. The office responded to approximately 1,200 requests for assistance, with the most prominent areas of inquiry being team selection, anti-doping and athlete safety issues. The office has continued to improve its visibility, resulting in an increase of access to dispute resolution opportunities prior to formal proceedings and a reduction of the accumulation of costs and fees for athletes. The office also distributed more than $65,000 in legal aid to athletes and improved the quality of its services with an updated website, usathlete.org, and the first-time distribution of a survey that measures how the office executes on its mission to serve athletes. The office scored a 4.8 out of 5 on this survey and will continue to administer it in its efforts to seek feedback and improve its reach and support of Team USA athletes.
Rule 40
---
Athlete services plays a key role in elevating Team USA athletes' voices in the USOPC's decision-making and progress. A key example of that responsibility in action came in October 2019, when the USOPC engaged athletes, NGBs, partners, and the IOC and IPC to reform its Rule 40 and Paralympic athlete marketing guidance for the Olympic and Paralympic Games Tokyo 2020. The new guidance increases athlete marketing opportunities and enables them to build their personal brand, while maintaining critical funding and participation pathways for Team USA and athletes around the world—all while affirming the USOPC's commitment to providing value to its partners.
Team Selection
---
A Team Selection Procedures Working Group was appointed in spring of 2019 to develop recommendations to ensure the selection of the most competitive teams through fair and transparent processes. The recommendations include best practices as well as required policies around athlete representation, anti-retaliation, conflicts of interest, athlete engagement, education and certification of all involved in the team selection process.
Athlete Safety
---
The USOPC's commitment to athlete safety is resolute. While we launched the independent U.S. Center for SafeSport to lead efforts on athlete safety, and it is now doing so, our own support for the mission remains strong and active as well.
The USOPC launched the Center in 2017, and it is the first organization of its type to address abuse in sports. In 2019, the Center trained one million people in safety prevention and awareness, banned more than 200 offenders from our sport environments, and implemented audits and best practices to prevent abuse. With increased training, education and improved reporting mechanisms, reporting has increased. We expect it will continue to grow as awareness improves and a better recognized and empowered athlete voice is embedded into the ethos of USOPC culture.
---
The USOPC has consistently provided the Center the full funding it has requested—including more than doubling its funding to $7.5 million in 2019, and committing to $11.5 million for 2020.
With critical support from the USOPC, the Center is continuing to grow to meet its caseload, taking on new reports and decreasing the number of unresolved reports.
---
Since the Center began operating, it has had exclusive jurisdiction over the reports of sexual misconduct in the Olympic and Paralympic community.
In 2019, the Center received 2,770 reports
---
opened
1,151 cases
based on exclusive jurisdiction (sexual misconduct)
---
asserted discretionary jurisdiction over
144 allegations
of emotional or physical misconduct
Center protocols dictate that reports of emotional or physical misconduct be referred directly to NGBs for their management.
SafeSport Centralized Disciplinary Database
---
sanctioned individuals at the close of 2019, including those who have been rendered permanently ineligible to participate in sport
Another critical end-product of the Center's work is identifying and restricting bad actors from our sport environments. The USOPC pressed for and supported the creation of a comprehensive U.S. Center for SafeSport Centralized Disciplinary Database of individuals suspended or deemed permanently ineligible for sexual misconduct. This list of restricted individuals continues to grow and at the close of 2019, the Center had declared 235 individuals permanently ineligible for participation in the U.S. Olympic and Paralympic community.
---

To ensure that reforms are taking hold, oversight and audits are a necessary tool. The Center audited the USOPC and NGBs in 2019 against education and training requirements, and plans to conduct audits on an annual basis. In 2019, the USOPC implemented a new Athlete Safety Policy and established a standardized and strengthened background check policy, and reinforced both with new infrastructure to ensure compliance.
---
---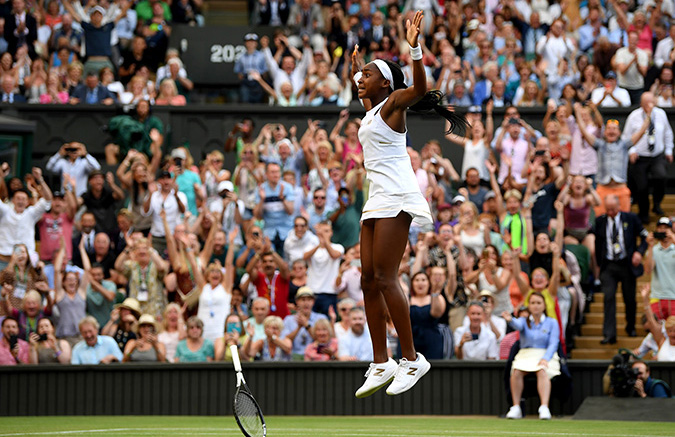 ---
Athlete Career & Education
---
The USOPC Athlete Career & Education program serves and empowers active and retired Team USA athletes in their pursuit of personal, educational and professional success and well-being. Nearly 700 athletes were directly served in 2019, representing 80% of sports. Further, 83 athletes gained job placements through ACE and the Adecco Group, while nearly 400 athletes received more than $2.4 million—an all-time high—in education resources with the support of donors and education partner DeVry University.
ACE also launched three personal development initiatives for Team USA athletes—the General Assembly online social media course, individual financial advising sessions for Simon Grant award recipients, and an online "Speaker in You" series—and continued its complimentary tax preparation services from IRS-certified volunteers. Additionally, the ACE team hosted a Pivot Workshop to provide retiring athletes with tools and techniques to aid their transition to life after competition.
Ace HighLights:
---
Total amount awarded in 2019 was $530,067
Increase in higher education award funding from the previous year.
---
In total, 173 of the 189 applicants received tuition assistance this year
---
52 Actively Competing Olympians
---
49 retired Olympians and Paralympians
---
72 Olympic and Paralympic
hopefuls
Athlete applicants came from 41 sports.
---
Athlete Scholarships Awarded
---
Hosted and presented by Olympian and entrepreneur Leslie Maxie, Maxie Media Group
---
Financial advising sessions
Hosted and presented by Olympian, author and entrepreneur Lauryn Williams, Worth Winning
---
licenses for Team USA athletes to enroll in the Discover Social Media course cost-free, from General Assembly/Adecco Group Foundation; 104 athletes enrolled in course
---
---
U.S. Olympians & Paralympians Association
---
The U.S. Olympians & Paralympians Association implements programs that encourage U.S. Olympians and Paralympians to foster Olympic and Paralympic values in their communities, encourage youth to pursue those values, develop camaraderie among athletes, and honor the individuals who have shared the unique experience of representing their nation at the Games.
In 2019, USOPA hosted an All-Olympian and Paralympian Reunion. This quadrennial event was held in Olympic City USA, Colorado Springs, Colorado, and kicked off the U.S. Olympic & Paralympic Hall of Fame induction ceremony celebration. The Olympian & Paralympian newsletter continues to highlight the significant life achievements of our alumni members and honors the anniversaries of past Games on a quarterly basis.
---
NGB Services
---
The USOPC dedicated $2.1 million to support NGBs in their operational effectiveness and service to athletes in 55 sports, including 50 NGBs and HPMOs. The USOPC works with these organizations to improve governance and leadership functions, strategic planning and business operations. By aiding NGBs and HPMOs as they navigate issues and resource deficiencies, the USOPC helps the sport bodies become more organizationally sound, in turn creating better environments for athletes to train, compete and thrive. Alongside working individually with NGBs and HPMOs, the USOPC facilitates opportunities for sharing best practices and monthly calls.
---
Oversight
---
To ensure sport organizations comply with USOPC requirements, the USOPC increased the number of audits of National Governing Bodies, High Performance Management Organizations, and U.S. Paralympic sports, resulting in 20 audits performed in 2019. Annual compliance checklists expanded to include NGBs, HPMOs and internal Paralympic sports for a total of 61 compliance checklists. To further support transparency, all audits and compliance checklists are published and made available on TeamUSA.org.
In September, the USOPC board approved the transfer of safe sport audit elements to the jurisdiction of the U.S. Center for SafeSport. The USOPC has worked closely with the Center to enforce NGBs compliance with the Center's guidelines. To further improve membership compliance, the USOPC also began developing Certification Audit Standards, policy templates and NGB education programs to provide member organizations with additional resources for success.
---
Compiled on an annual basis, the USOPC compliance checklists assess organization compliance with USOPC standards via a review of policies, documents and independent verification. The checklist includes standards for each organization, assessing areas of governance, financial capability, due process and athlete representation, athlete safety and anti-doping.
In 2019, 92% of 1,719 standards were found to be compliant through the initial review process of 50 NGBs, five HPMOs and six internally managed Paralympic sports.
1,570 were compliant
149 were found to be deficient (8%)
Of the 149 deficiencies
---
121 (81%) were resolved within the 90-day remedy period and 28 (19%) carried over into 2020.
---
Audits are conducted every three years through independent testing and verification processes. These reports work to ensure NGBs and HPMOs are following and acting on policies and procedures noted in the compliance checklists. NGBs and HPMOs are selected for audit based on prior audit results and timing, results from compliance checklists, and concerns raised within the USOPC or external stakeholders.
20 audits performed on 17 NGBs, TWO HPMOs and one U.S. Paralympic sport—including:
---
USA Archery
U.S. Association of Blind Athletes (Goalball)
USA Bobsled & Skeleton
USA Boxing
American Canoe Association
USA Climbing
USA Diving
U.S. Figure Skating
USA Karate
U.S. Paralympic Cycling
USA Rugby
U.S. Ski & Snowboard
USA Skateboarding
USA Softball
US Speedskating
USA Surfing
USA Synchro
USA Table Tennis
USA Water Polo
National Wheelchair Basketball Association
---
---
---
Diversity & Inclusion
---
The USOPC is committed to promoting diversity, equity and inclusion. As the national steward of sport, the U.S. Olympic and Paralympic community must represent a total diversity of race, gender, geography and perspective—to ensure that equality promised is equality achieved. In accordance with the Ted Stevens Act, we implemented the seventh edition of our award-winning D&I Scorecard Program, which annually collects diversity data related to race, ethnicity, gender, disability and military veteran status from the USOPC, NGBs and HPMOs. By identifying opportunities to become more diverse—among our athlete, coach, staff, leadership and grassroots populations—we can ensure our community is actively creating and implementing effective plans to achieve overall equity and inclusion.
The USOPC's 2019 scorecard data indicates a nearly 22% and 31% growth in female and minority executive, senior-level officials and managers from the previous year with women comprising the majority (56.7%) of our overall workforce. After reporting low ratings for disabled (1.7%) and veteran (4.4%) personnel, we established goals to target these specific areas in our hiring pool in future years.Visit TeamUSA.org/Inclusion to view the full report and to learn more about the D&I Scorecard program.
Additionally, to help create a level playing field in candidate pools, the USOPC continued its Qualified Underrepresented Applicant Directive hiring program. We also hosted our 26th annual FLAME collegiate pipeline program to prepare and encourage minorities to pursue careers in the Olympic and Paralympic movements, and recognized growth in diversity, equity and inclusion of NGBs by awarding $5,000 to both US Speedskating and USA Triathlon as part of the fifth annual USOPC D&I Awards. Also, and to further ingrain D&I into USOPC culture, we continued to offer training on diversity and inclusion-related topics to staff and NGBs, while strengthening our Employee Resource Groups: Pride Link, Emerging Leaders in Sport and Women's NET.
Collegiate Partnerships
---
The USOPC collegiate partnerships department continued working through the USOPC Collegiate Advisory Council priorities of messaging and athlete pathways. In 2019, the department launched its "Olympians Made Here" and "Paralympians Made Here" collegiate solidarity campaigns. Through this first-of-its-kind effort, schools and conferences were encouraged to editorially use the USOPC's marks to celebrate their athletes that have ties to the Olympic and Paralympic movements. The campaigns launched with more than 120 registered schools, and through more than 37,000 social media engagements, garnered attention from university presidents, athletics directors and athletes.
In addition to its awareness efforts, the department assembled a legislative task force comprised of senior collegiate athletic administrators. The group reviewed and discussed areas to enhance the student-athlete experience for those who are competing both for Team USA and their school. As a result, three proposals were finalized and put into the NCAA 2020 legislative cycle that would allow for these elite athletes to have increased access to USOPC- and NGB-provided resources, more flexibility to train and Paralympic parity to Olympic policies and waivers.