High Performance Programs
Competitive excellence and well-being work hand in hand, and at their best, reinforce one another. Nearly half of the USOPC's budget is directed toward programming and services that support elite athlete performance, and their physical and mental well-being. In addition to grants and rewards, this includes athlete health insurance, sports medicine and science, coaching education programs, and paralympic outreach and development. Resources are delivered either directly to the athlete or through their NGB to maximize effectiveness, efficiency and holistic development. High Performance Grants
---
To maximize resources, high performance grants are strategically allocated to give the greatest number of American athletes the opportunity to succeed using a focused, high-performance support process. In 2019, $83 million was distributed directly to athletes, National Governing Bodies and High Performance Management Organizations. Funds given to NGBs and HPMOs were utilized for elite athlete programming, such as training camps, coaching and travel to international competition.
The USOPC increased its Athlete Performance Pool to 1,484 athletes, expanding the number of athletes qualified for monthly monetary stipends to supplement the training and competition resources provided. Additional support is offered via Operation Gold—which totaled $3.4 million in payments to 595 athletes for their top finishes in each sport's most competitive senior international competition of 2019—and Elite Athlete Health Insurance benefits, which amounted to $7.3 million in support to 1,326 athletes.
Performance and well-being reinforce each other. That's why USOPC supports not only high-performance competitive excellence but also cares for the long-term health and well-being of Team USA athletes, physically, emotionally and mentally. In 2019, we created the athlete services division, which includes oversight of sports medicine to ensure health and well-being decisions are made independently of performance decisions.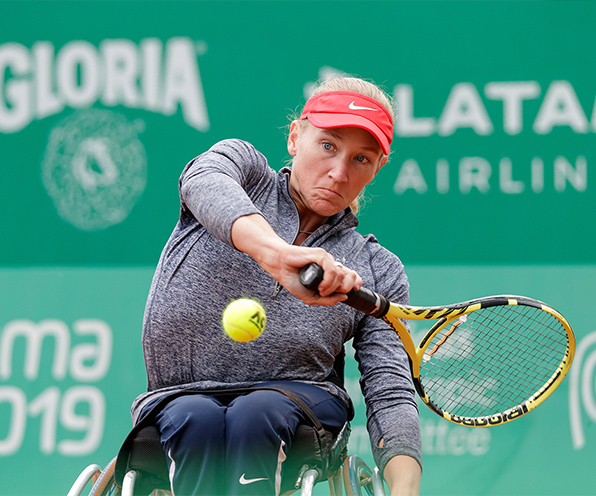 Sports Medicine
---
The sports medicine department supported the USOPC's mission of athlete well-being through an expansion of services and new structure. Sports medicine moved from the sport performance division to the newly established athlete services division, allowing the team to be better integrated as part of a holistic athlete support system. These efforts included the hiring of a new chief of athlete services, Bahati Van Pelt, and the creation of a new chief medical officer role responsible for setting and implementing the USOPC's strategic direction for promoting athletes' physical and mental health and well-being.
The USOPC continued to provide world-class sports medicine service, with USOPC clinics engaging in over 36,000 athlete visits in 2019. The research arm of the USOPC, the U.S. Coalition for the Prevention of Illness and Injury in Sport, secured four years of additional funding and recognition as an International Olympic Committee Research Center. As part of this recognition, the U.S. Coalition has made a commitment to collaborate with other U.S. leaders in sports medicine research and provide formal mechanisms for knowledge sharing with the IOC.
In a joint effort with the Technology & Innovation Working Group, the Athlete 360 program secured over $5 million in financial support for program development, ensuring funding through 2024 to support holistic athlete health and training. Additionally, the USOPC's National Medical Network continued to provide world-class care to Team USA. USOPC leadership focused on expansion of the services available through the NMN, including securing new agreements that will provide further expertise in women's health, mental health, Paralympic sport and sports cardiology.
At the Pan American and Parapan American Games Lima 2019, the sports medicine team also provided support to the 891 athletes of the U.S. delegation. The USOPC team was also able to leverage its world-class testing technology, BioFire, to help athletes from around the globe when several began falling ill in the village, rapidly testing and helping contain the spread of the virus to protect all participants. Since the Lima Games, several National Olympic Committees have invested in BioFire technology, and the IOC is investigating using it for future Olympic events, demonstrating the USOPC's significant global leadership to keep athletes—and all Games participants—safe.
We continued to innovate with supportive technologies to support high-performance goals in athlete endeavors and to help Team USA athletes achieve their best. Our sport science providers deliver performance measurement, insights and feedback that help Team USA athletes and coaches make better decisions about training and competition to improve performance.
---

---
Sports Science
---
The USOPC sport performance team was actively engaged with Team USA in 2019, providing over $7.2 million in sport science support to the nation's top athletes and coaches. The team of experts in the fields of dietetics, strength and conditioning, psychology, physiology, coaching, data and analytics, and performance technology worked across the full range of summer and winter Olympic and Paralympic sports, and were focused on enhancing performance while also maintaining athlete health and wellness.
The sport performance department took on a number of key initiatives that included the development of heat and hydration strategies for Team USA athletes preparing for the climate in Tokyo; the build-out of an increased range of performance assessments to track and support various aspects of an athlete's health and performance; the deployment of the Training Readiness Dashboard, utilizing sleep data to provide insight on daily training considerations; an enhancement of support provided to Paralympic sports; and the expansion of the USOPC's data and analytics efforts to help guide the strategies, tactics and training to best prepare Team USA for competition.
Technology and Innovation
---
2019 also saw the continued growth and expansion of the USOPC's technology and innovation program. Through the generosity of donors, the USOPC established a tech and innovation fund in 2015, and money from this fund has since supported tech projects in the amount of $1.9 million; this amount includes $350,000 that was allocated against 12 technology projects in 2019—supporting a range of summer and winter Olympic sports, as well as two Paralympic sport disciplines.
USOPC technology staff continued to provide support to a wide range of Team USA athletes, including DeAnna Price, who won the first world championship gold medal in the hammer throw for Team USA. Price utilized the FlightScope radar tracking system to help optimize her technique during training, which provided real-time data on the velocity, release angle, and distance of each of her throws in training to help her prepare for the world championships. Using this system, athletes are better able to understand different variables and how they impact performance.
With an established foundation of ongoing initiatives, the technology and innovation program will continue to grow in 2020, building partnerships and pursuing advances in automated video capture, virtual reality, wearable sensors, and artificial intelligence to help gain insights into the factors that impact athlete performance, with the goal of improving training for more athletes as they prepare for the Olympic and Paralympic Games.
Paralympic Outreach
---
U.S. Paralympics engages current and future athletes through a variety of sport programs, community and partner engagement, and strategic athlete recruitment. In 2019, U.S. Paralympics partnered with 160 Paralympic Sport Clubs, including 60 clubs that were recognized within the Paralympic Sport Club Excellence Program. U.S. Paralympics continued to implement its nationwide athlete identification and development strategy that introduces Americans with disabilities to Paralympic sports across the country. Through sport development initiatives, more than 980 athletes were added to the U.S. Paralympic sport pipeline in 2019.
Coaching Education
---
The USOPC is committed to supporting National Governing Bodies by pioneering coaching education and training opportunities to help guide Team USA athletes to competitive excellence through a positive and healthy sport experience. In 2019, the USOPC hosted two events to help coaches from more than 30 NGBs connect and share best practices, and also worked with coaching educators within the NGB community to create resources that promote athlete safety and well-being in the U.S. Olympic and Paralympic community.
Additionally, the USOPC partnered with Nike to develop and launch "Coaching Girls," an expansion of the How to Coach Kids program for volunteer youth coaches. Inspired by the Aspen Institute's Project Play 2020 initiative, How to Coach Kids is a free, online course that aims to increase the quality and quantity of volunteer youth coaches in the U.S., and keep kids engaged in play while promoting active, safe and healthy lifestyles. Easily accessible online and as an app, How to Coach Kids has delivered training to 25,000 coaches since its launch in 2018.
The USOPC also continued to expand its American Development Model to nearly half its membership through increased NGB support. Grant recipients US Biathlon, USA Boxing, USA Field Hockey and USA Judo became the latest NGBs to develop ADM programming in 2019.