Athlete Training Facilities
The USOPC provides world-class facilities to support Team USA athletes in their day-to-day training and development through our two Olympic & Paralympic Training Centers, our 11 partner training sites and nearly 40 community-based multi-sport organizations. Olympic & Paralympic Training Centers
---
The USOPC operates two high-performance Olympic & Paralympic Training Centers that create an integrated environment of training and support services for Team USA athletes with a focus on athlete performance, safety and well-being. A total of 16,429 athletes in 1,072 programs were supported throughout 2019 at the two facilities. While most of the athletes use our integrated facilities for intensive training camps and sessions, we also have a group of year-round athletes who live on campus as residents.
Colorado Springs, Colorado, is a 35-acre home to the flagship OPTC and has sport venues for training, a world-class sports medicine facility and all the necessary services for Team USA athletes to live and train on complex.
Lake Placid, New York—host of the Olympic Winter Games in 1932 and 1980—is home to our winter-sport focused OPTC and also integrates sports medicine, training facilities and accommodations for athletes. With the USOPC working in close partnership with New York State's Olympic Regional Development Authority, Team USA athletes train at various facilities, including the Olympic Sports Complex, bobsled, luge and skeleton sliding track, ski jumping complex, the Olympic Center Speedskating Oval and the Mt. Van Hovenberg biathlon and cross-country skiing tracks.
---

World Championship Medalists:
---
---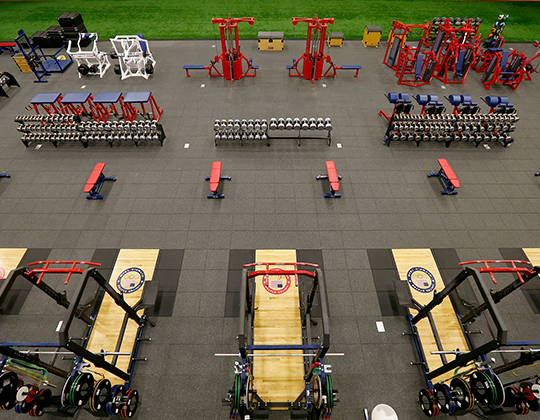 ---
Olympic & Paralympic Training Sites
---
In 2019, the USOPC partnered with 11 U.S. Olympic and Paralympic training sites that work in collaboration with NGBs and HPMOs to provide nearly 500 national team athletes access to additional resources, services and facilities in nine states. The USOPC provides additional support to two of the sites—the Chula Vista Elite Athlete Training Center and the Utah Olympic Legacy Foundation—to ensure the highest level of resources and availability for Team USA athletes.
Multi-Sport Organizations
---
The USOPC partnered with 38 Multi-Sport Organizations in 2019, to help drive national interest and participation in sport. The partner programs represent a combination of youth, disability, military, community and education-based organizations. With more than 45 million members, MSOs—such as YMCA of the USA and Boys & Girls Clubs of America—expand chapter networks and increase opportunities for sport participation at the national, international and grassroots levels.